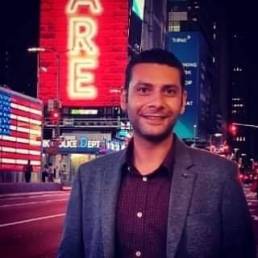 Ramy Ayoub
Ramy Ayoub is a marketing professional, entrepreneur, and digital transformation expert. In 2007, he founded the Red Sea Academy for Tourism & Entertainment Services, which quickly became a trusted provider of entertainment services for over 20 upscale hotel groups in the EMEA region.
Throughout his career, Ramy has consistently demonstrated his marketing prowess, managing operations and serving as a marketing consultant for leading branding activation campaigns globally for art & cultural festivals, hotels, and regional companies. He has a proven track record of generating remarkable results and has helped many organizations achieve their business goals through effective marketing strategies.
Ramy's exceptional skills and marketing acumen have earned him a reputation as a thought leader in the industry. He is passionate about helping businesses adapt to the rapidly changing digital landscape and has played a key role in driving digital transformation across various sectors.
Ramy possesses a rare mix of strategic marketing acumen with excellent leadership, change management, and business process abilities. He has worked with key stakeholders to maximize external relationships with the government and allies to attract fresh business opportunities. Ramy has demonstrated a track record of developing creative marketing strategies and solutions that enable multiple successes through multi-channel sales-driven and customer-centric activities. He has also maximized profitability through sponsorships, loyalty programs, and partnerships with local and international entities.
Ramy Ayoub has a proven track record of leading cross-functional teams to support effective communication and result-driven revenue growth Throughout his career with Hilton Hotels, IHG, Sun International Hotels & Casinos, Port Ghalib Resort, UNWTO, Porto Marina, Porto El Soukhna, Jaz Hotels Group, Thomas Cook, TUI Group, TEZ Tours, Odeon Tours, Vodafone Group, Zain Telecom, Raya Telecom, FTV, Ministry Of Sound, Red Bull, Heineken, Bitburger Beer, Al Ahram Beverages, OBOUR LAND, Domty and much more…
He has overseen a number of initiatives, managing the development and implementation of strategic marketing positioning in the execution of all messaging, positioning, and marketing strategies. He has ensured that brand-compliant content is delivered to maximize exposure and achieve budget and revenue growth.
Ramy's innovative approach toward new possibilities for collaboration, sponsorship, and market diversification has been a hallmark of his work, earning him a reputation as a thought leader in the field of marketing. His ability to generate creative marketing strategies and solutions have enabled multiple successes through multi-channel sales-driven and customer-centric activities. Ramy has also maximized profitability through sponsorships, loyalty programs, and partnerships with local and international entities.
As a passionate marketing professional with a strong work ethic and a wide range of experience, Ramy is constantly seeking to unleash his creativity with future-proof solutions and make a significant contribution to his team and organization.
In addition to his work in marketing and digital transformation, Ramy Ayoub has also been involved in initiatives aimed at promoting sustainability and reducing food waste. He is currently collaborating with several organizations to develop strategies that leverage digital technologies to improve supply chain efficiency, reduce waste, and promote sustainable practices. Ramy believes that digital transformation can play a critical role in creating a more sustainable future and is committed to using his expertise to drive positive change in this area.
Ramy Ayoub is an Egyptian-born entrepreneur and hotelier, founder of The Red Sea Academy, and graduate of Arab Academy of Science and Technology with a Bachelor Degree in Business Administration. Entering the Hospitality field as a DJ, Ramy worked with hotel giant Hilton Hotels Worldwide across Egypt for several years, expanding his roles from events and entertainment, the marketing industry, and design and graphics. As an Events and Entertainment Manager for many years, Ramy has successfully led teams across the Middle East in delivering unique and expansive events across not only the region's finest hotels, but festivals, galas, company openings among several more. During his time in hotels, Ramy developed his entrepreneurial skills through courses and diplomas, resulting in the foundation of his own Entertainment Company, ©The Red Sea Academy in 2009. Pioneering the very first dedicated Entertainment Company in Egypt, and only the second across the whole of Africa, Ramy initiated the expansion of the acadmy; training entertainers, providing entertainment services for over 20 hotels across the Red Sea, organizing events, operating clubs and venues. Following the revolutions in Egypt, Ramy concluded the ©The Red Sea Academy, to allow for new opportunities in a challenging situation. Continuing to expand his education and qualifications, Ramy undertook a series of Diplomas within the Marketing industry, including Branding and Social Media.
---
Bachelor of Management Information Systems & Computer Science | 2008 from (HITHC)
Diploma of Digital Marketing & Social Media | 2013 - 2014 from (AASTMT)
Mini Certificate in Sales & Marketing | 2018 - 2020 from (AASTMT)
Professional Diploma in Marketing & Branding Strategy | 2018 - 2020 from (AASTMT)
Professional Diploma in Sales Management | 2020 - Present from (AASTMT)
Professional Diploma in Digital Marketing | 2020 - Present from (AASTMT)
---
---
Arabic (mother tongue)
English (fluent)
Italian (basic knowledge)
Russian (basic knowledge)
---
Creative and Innovative
Events Management
Entertainment Management
Exhibitions Management
Social Media & E-Marketing
Organizational Skills
Festivals Art Director
Activities Coordinator
Stage Management
Production Management
Photography & Videography
Video Editor & After Effects
Music Producer & Arranger
Microsoft Office
Tech Savvy & Networking
---
Events & Entertainment Manager | Hilton
(2017 - Present) Hilton
(2020 – Present) Hilton Hurghada Plaza – Events & Entertainment manager
(2018 – 2020) Hilton Alexandria Corniche – Events & Entertainment manager
Managed resources, projects and relationships effectively.
Collaborated to work with other departments as marketing & sales.
Actively provided consumers insight and feedback to other function/departments team.
Worked with agents/entertainers around the world to source/book appropriate entertainment for the hotel guest.
Created an Excel reservation system to manage
bookings, available dates and slots, contract tracking across some 600 acts & 4K bookings per year.
Created an Excel database for nightlife customers with over 8K contacts in the city.
Managed and developed the annual events & entertainment budget.
Worked to manage & process the entertainer's attendance & payroll.
---
Club Manager
(2020 – Present) Hilton Hurghada Plaza – Club Manager (Anaconda Bar & Lounge)
(2017 – 2020) Hilton Alexandria Corniche – Club Manager (NEO Bar & Lounge)
Branding & Brand identity, created all the social media pages.
Developed the brand strategy with market observation to find the new opportunities with influencers in the market.
Managed all club activities and organized all works for internal resources and recommended proper solutions to increase the productivity of the business.
Maintained inventory of all equipment and supplies and implemented all company's programs according to our policy, prepared required operating plans and implemented all improvement strategies and supervised the achievement of all the club objectives.
Administered all profit and losses for the club and prepared monthly financial reports. Maintained good professional relationships with all members and recommended solutions to all issues.
Hired and evaluated staff performance. Trained all staff members, conducted various planning sessions and prepared reports for all staff performance. Organized weekly meetings to design effective strategies to achieve all
club objectives.
Oversaw all training sessions of staff and ensured compliance to all loss prevention and human resources policies and assigned all departmental head for various club duties.
Provided optimal level of customer service to all guests.
---
Regional Events & Entertainment Manager
(2015 – 2016) Ministry Of Sound Red Sea
Managed and monitored both active corporate and guest events, as well as proactive venue events, promotions and activations.
Ensured that marketing campaigns are effective in driving maximum footfall to venue.
Improved event programs, event decorations, branding and peripheral entertainment elements and ensured implementation is of high quality.
Ensured all company permissions, documents and requirements are in place prior to each event.
Ensured AV, Sound & Light equipment is maintained and used properly throughout each event as well as all TVCs and internal branding is up to date and to a world-class standard.
Monitored good care of international and local celebrities, artists, musicians, and DJs. As well as, ensuring that all artists are cared for in a professional manner and all their needs are adhered to.
---
Regional Events & Entertainment Manager
(2014 – 2015) Golden 5 City Red Sea
I was organizing, planning, controlling, coordinating, and supervising the entertainment activities of the 7 hotels around the Golden 5 City.
Planned the annual entertainment activities calendar in coordination with the Food & Beverage, Sales, Marketing, and Public/Guest Relations departments respectively.
Planned and elaborated entertainment programs and musical performances – day activities, night activities (shows), sporting activities, ' teen club – mini club' children activities.
Supervised and monitored the safety of the hotel guest and staff, during activities at all the time.
Ensured efficiency and quality of service rendered to guests at all times by maintaining constant checks on service standards of staff to assure upkeep and consistency of standards of the hotel services, quality, policies, and practices.
Planned and prepared annual Budget for the department.
Implemented specific training programs for the department staff.
Designed flyers, posters, and banners for the events & activities.
---
Founder & CEO
(2007 – 2014) Red Sea Academy for Tourism & Entertainment Services
Red Sea Academy For Tourism & Entertainment Services is the first Entertainment Academy in Egypt. After a detailed study of the market, we realized the need for Quality as well as Professional Entertainers in all tourism sectors. Such high demand resulted in the birth of our Academy. Since 2003 our team has worked
tirelessly to become Egypt's leading Entertainment Academy. Based in the Red Sea zone, we grew alongside the town providing world-class services for the market. To stand out, we had to benchmark the Academy as a complete Entertainment Service Provider For (IHG PG – IHG Soma Bay – CWR Soma Bay – IHG Semiramis – Hilton Hurghada Plaza – Hilton Long Beach – Iberotel Madinat Coraya – Dreams Beach Marsa Allam – Oriental Bay Marsa Allam – Tulip Resort Marsa Allam).
We hired and trained entertainers, sponsors or represented professionals. Our 3-months training guaranteed the level of quality and commitment of our team and participants. We have exclusively operated Port Ghalib at Marsa Allam since 2007 and exclusively managed the VIP Club at Port Ghalib, from 2009 until 2011. Rewarded by THOMAS COOK for the best Entertainment Team at Iberotel Egypt in 2008 / 2009.
We were appointed Festival Art Director for all Ministry of Tourism Festivals in the Red Sea, Red Sea Government Festivals, UNTWO Festivals, the Ministry of Environment Festivals, Comedy Club Russia from 2009 till 2014. We were part of the Organizing Team of the Official opening party of Port Ghlaib at 2009 with Beyonce. We organized more than 22 New Year Events in 2010 from Soma Bay to Marsa Allam. Exclusively managed the Red Sea Academy Beach Club at Abu Dabbab Marsa Allam from 2010 till 2015.
I

don't

set

limits

on

my

unlimited

potential,

I

go

beyond

limits

and

set

my

own

rules.