RAMY AYOUB
GOOGLE
Best Free SERP Checker & Tracker Tools in 2021 Best Free SERP Checker & Tracker Tools in 2021 Best Free SERP Checker & Tracker Tools in 2021 Best Free SERP Checker & Tracker Tools in 2021
text
If you want to rank higher and get more organic traffic to your website, free SERP checker tools are the great ones to help your rankings in the search engines. Let's look at what a SERP is and why a SERP checker tool is vital for your business.
SERP checker tools are essential to get an insight which websites are ranking at search engine results and Google rankings for the keyword you targeted. This crucial data you acquired is not only learning the positions you targeted, but also for the strategy that you will follow to rank higher.
Ranking higher is quietly equivalent to getting more leads to your website. With the help of the keyword rank checker, you will be closer as a strategy to converting the leads into sales.
Whether you are an agency or a small business, the online ranking & presence is an indispensable optimization for all levels of business you are carrying out.
With the free SERP checker & tracker tools, you just need to type the keywords you want to follow whether desktop or mobile. Once you analyze them, integrate the SEO tools to your website in order to audit your website according to the data you acquired from the SERP results.
Top 5 Free SERP Checker & Tracker Tools for analyzing your targeted keywords 
Here we gathered the free SERP checker & tracker tools to help you to see search results from any country in real-time. With these free tools, you will learn more about the ranking difficulty, organic traffic, and position history. Then, you will have a chance to change your selected keywords with low difficult keywords, such as more long-tail keywords.
Let's now compare 5 free SERP checker & tracker tools to find the best fitted for your business:
Ahrefs
Whatsmyserp
SpySERP
AccuRanker
SerpWatch
Ahrefs offers a limited free version to analyze the SERP and website rankings for the keyword you targeted, there will be an opportunity to see the first three ranked websites as free.
Unlike other tools, Ahrefs has plenty of free SEO tools that you can use and test your website performance easily. If you would like to see the whole results for your search, you can sign up for a 7-day free trial or paid versions to improve your SEO in an organized way. However, there is no multiple keyword ranker entries in their tracker, you can just search for one keyword ranking.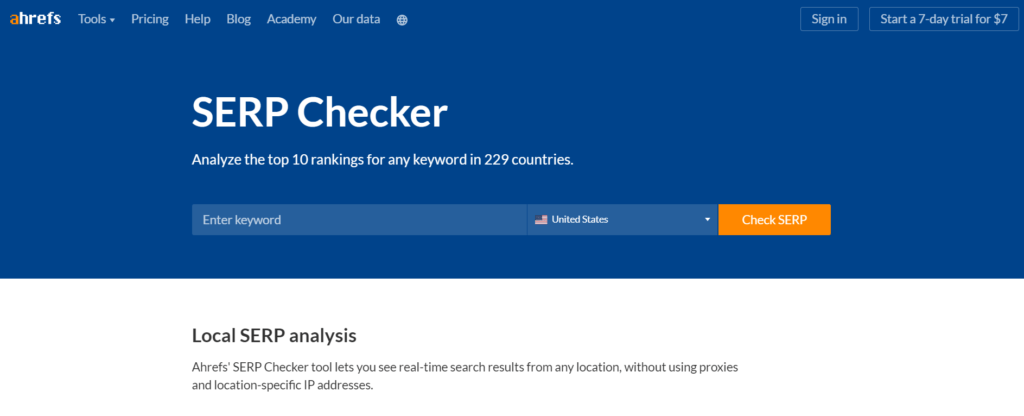 Another keyword rank checker alternative is Whatsmyserp. With the tool, you will track your keywords for unlimited domains for your targeted keywords as free.
With this rank checker, you will be able to track your keywords unlimited way without signing up. Whatsmyserp offers an exclusive opportunity as an unlimited way compared to the other tools to track SERP features and your site & competition.
With SpySERP, it will be so easy to check the SERP results whether for Google, Bing, Yandex and Yahoo, you can select your specific browser you would like to see in the results.
By selecting the device, you will see the differences between the desktop and mobile versions in terms of ranking of the website as location. SpySERP provides a double report for you as desktop and mobile.  If there is any different ranking position for your website at mobile, the tool will give you an insight into it and you will take quick action to optimize it.
Also, the rank checker tool gives you an opportunity to search for user language, the report reflects the differences for it and it gives advanced reports for your platform.
If you are looking for basic SERP tracker software, AccuRanker offers you top search results as Google appearance. You will be able to see the results as exactly how Google shows you.
This rank checker tool is extremely useful as it's free version. AccuRanker shows you ads, local and search results with up to 5 times free searches every day. With the help of this tool, you can check the differences between mobile and desktop separately.
SerpWatch is an advanced rank tracker tool with deep rank tracking insights and workflow optimization. It differentiates with other rank tracker tools in terms of sophisticated image-recognition systems. Also, they particularly show you the exact ranking position of your website domain for the keywords you entered to their checker.
There is a limitation for the keywords you would like to check on SerpWatch, a maximum of 5 words you can analyze every day as a free for your website and see the rankings. You must sign up for further details about the tool provided for the SERP results.
Conclusion
It is so obvious that the right keywords improve your organic CTRs and ranking at the search engines and your website will be more visible at SERP. These rank checker tools help you to narrow your keyword gap with your competitors and rank higher at the browser you selected for your business.
Through the effective usage of those tools, there will be no obstacle in converting your website traffic to potential sales.